RollMaster 280 is the latest generation, innovative roller blinds cutting table for roller blinds production.
The sophisticated, modular design allows you to create different table sizes and configurations of equipment.

The Standard version is equipped with a manual end cutter.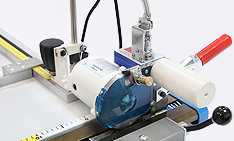 End cutter

The speed of cutting a single layer depends on the manual handling. The cutting process may be done in two ways: by sliding the end cutter along the fabric or by pushing it energetically towards the end of the board, where a rebound spring pushes the end cutter back to its starting position.
---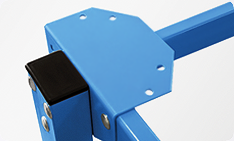 Table top and frame

RollMaster is built on a light but extremely rigid frame. Table top with a thickness of 25 mm is coated with a matt hardened lacquer. Table tops are framed with 2 mm PVC tape, making them very durable and safe to use. The table frame is powder-lacquered.
---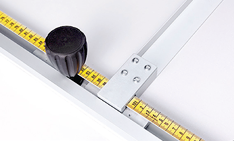 Guiding strip
Attached to the table top is a guiding strip with a precision scale, used to measure the width of the blinds. Optionally, it can be complemented with a sliding measuring strip or laser extension. All aluminum parts of the table are anodized.
---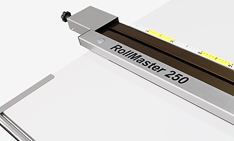 Holding bar
On the front part of the table there is a holding bar which presses the material. Default is a manual mechanism operated by hand, which can be optionally expanded to pneumatic version.

Read more

---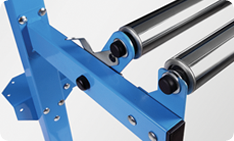 Fabric feeder
The fabric feeder is located under the tabletop, which saves space and ensures more convenient access to the table. The simple spacing adjustment mechanism (3 positions) without the necessity to remove the tubes from their holders, makes it possible to use rolls of different diameter.
We also offer an upper version of the fabric feeder for manufacturers who prefer a traditional solution.


While comparing offers provided by the competition, we have decided to create
a machine ensuring intuitive operation and highest cutting quality.
Find out why RollMaster is a unique and competitive offer.

While thinking about user-friendliness we have not forgotten about safety.

The endcutter is protected against unintended activation when the holding bar is raised. The blade is mounted within a cover protecting against injuries.

We support eco-friendly approaches so we used energy efficient components in our designs.

Thus we are competitive in terms of prices not only during the machine purchase but also during its operation.

Intuitive, fast and convenient operation is the major priority taken into account while designing the RollMaster cutting table.

All repeatable actions have been simplified to the minimum to save time.